Diabetes Program at RGH Clinic
RGH is excited to partner with the University of New Mexico as well as New York University in bringing the Endocrinology Echo project to Portales. Project ECHO is funded in part by a grant from the Leona M. and Harry B. Helmsley Charitable Trust and has received support from the New Mexico Legislature, the University of New Mexico, and the New Mexico Department of Health. Project Echo-Access is dedicated to reaching out and serving rural areas in training and providing teams with specific curriculum tailored to the needs of each individual site. RGH and Echo will together use resources to provide local and culturally appropriate services to patients in order to prevent patients from having to travel extreme distances, waiting extended periods of times, or not having an established relationship with the facility and or provider.

Neelu Finley Heads ECHO Endocrinology Program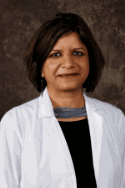 Neelu Finley has been a part of the RGH family for 10 years. During that time she has practiced family medicine in the RGH Clinic. With vast experience in the specialty of diabetic care, Finley will now be able to assist diabetic patients' with managing chronic care. As the provider for the Endocrinology program, Finley will create comprehensive plans to help patients combat conditions, especially diabetes and other endocrine, thyroid, adrenal, and testosterone needs.
Available Tuesday & Thursday, 9:00 a.m. - Noon
Some of the services we offer include but are not limited to the following:
Adrenal
Hyperlipidemia
Male Hypogonadism
Metabolic Bone Disease
PCOS Hirsutism
Pituitary
Thyroid
Transgender