Emergency Department
Roosevelt General Hospital Emergency Department (ED) is a seven bed facility that treats 9,000 patients annually. Your ED team consists of physicians, nurses, and paramedics and other healthcare professionals to meet your needs. Our staff is trained and equipped to provide excellent patient care.
Roosevelt General Hospital is a state certified Level IV Trauma Center. Level IV Trauma Centers are vital links to rural New Mexico. This state designation confirms RGH has specific standards of care for our trauma patients and ED staff. The response to trauma is time critical. Patient outcomes are dependent upon having a plan in place. Level IV hospitals' primary role is to provide initial evaluation, assessment, stabilization and transfer of critical trauma patients to higher level trauma centers.
Overcrowding and long wait times in emergency rooms occur in hospitals throughout the U.S. RGH has a door to doctor time less than 30 minutes in the Emergency Department. This is the time from patient registration to the time a patient is seen by a physician. This is just an average. Patients can wait much less or much longer before receiving care, based on many factors. The door to doctor time will be impacted by the number and severity of patients being cared for in the other treatment rooms. However, Roosevelt General Hospital is still ahead of the national average for "door to doctor" times in the Emergency Department.
EmCare®, RGH Emergency Department Staffing Firm
EmCare is an industry leader in outsourced physician services. EmCare-affiliated physicians and clinicians provide emergency medical, radiology, anesthesiology and hospitalist care to hundreds of hospitals and health care facilities throughout the country.
Founded in 1972, EmCare's success is based on its commitment to quality physician leadership backed with comprehensive support programs that allow physicians to focus on patients and high quality medical care.
Facts and Figures
More than 7,000 affiliated physicians and clinicians
12 million patients treated annually
Services provided in more than 500 hospitals nationwide Founded in 1972 Based in Dallas, Texas
RGH Careflight Has Landed!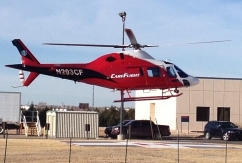 Patients with critical, or life-threatening, medical conditions will now receive quicker air ambulance transportation to regional and metropolitan hospitals due to TriState CareFlight opening a new base at Roosevelt General Hospital.