Due to an improvement project to our cafe, the RGH Cafe is temporarily closed. Normal business should resume at the end of July 2022.
An announcement will be placed on our website and Facebook page once we are able to serve to the public.
Hours of Operation
Breakfast
7:00 AM - 9:30 AM
Lunch
11:00 AM - 1:30 PM
Dinner
4:00 PM - 5:00 PM (Patient Meals only)
Grab & Go, Snacks & Fountain Drinks
7:00 AM - 5:00 PM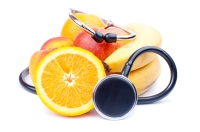 Inpatient Meals
Providing a nourishing, well-balanced, properly controlled diet is our highest priority. We will make every attempt possible to consider patients' likes and dislikes. If you are having food brought in, please check with the charge nurse to make sure it fits within the diet your physician ordered. A wide range of hot and cold breakfast items, as well as a variety of lunch and dinner selections are available each week.
Patient meals are delivered:
Breakfast 7:00 a.m. - 8:30 a.m.
Lunch 11:00 a.m. - 12:30 p.m.
Dinner 4:00 p.m. - 5:00 p.m.
Clinical Nutrition Services
A Dietitian can provide consultations or instructions on diets or nutritional needs (i.e. diabetic, gluten-free, low-fat, low-sodium or low-cholesterol diets) and is also available for outpatient education. A physician referral may be required.
Guest Tray
As a thank you to our patients and their caregivers, we offer one free guest tray. Please notify your nurse or call Dietary Services to add a guest tray. Guest trays are delivered at the time a patient meal is delivered.
RGH Cafe
The RGH Cafe offers a variety of freshly prepared food selections to include hot and cold items for breakfast, lunch and dinner. Meal selections vary daily. Please call Dietary Services for daily menu options. While meals are only served during our meal times, cold food, such as sandwiches, desserts, ice cream, yogurts, and salads are available as grab and go items during hours of operation. Coffee, tea, fountain drinks, and bottled drinks are available for purchase. The cafe is open daily.
Our cafe is currently undergoing some major improvement projects and is not open at this time. Construction should be completed by end of July 2022. Food service for patients and visitors has not seized. For the safety for you and others, please follow the CDC guidelines by wearing a face mask.